Today, I am trying something new- a link up! Shannon over at
Life After I Dew
hosts this super cute one every Wednesday called 'So What Wednesday'! Come on over and read what everyone is saying so what to! What are you saying 'so what?!' to this week?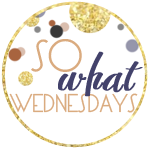 *SO WHAT if I had to take a fun little field trip to Labor & Delivery Sunday night and left feeling even more defeated!
*SO WHAT if this week was a 'busy' one for us and all we did was had a Fall Festivities Playdate, an OB appointment, and a high risk doctor appointment Friday.
*SO WHAT if I just now remembered I forgot to pull out dinner.
*SO WHAT if I no longer have an appetite and when I do, I only want to eat junk.
*SO WHAT if I am counting down the days to my due date- 36 days, in case you were wondering.
*SO WHAT if there are so many things I am excited about having another baby for- and they are the little things most people couldn't care less about!